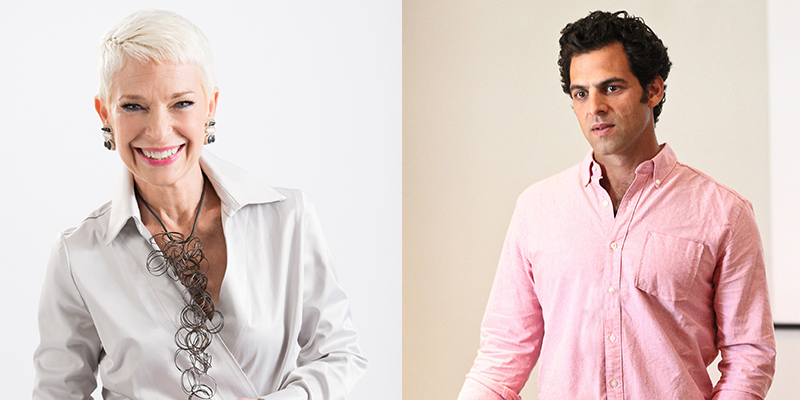 Catalyzing Newport welcomes visiting catalysts from the Knight Foundation July 27-31: Carol Coletta, Vice President of Community and National Initiatives and Daniel Harris, San Jose Program Director. The residency will address Catalyzing Newport's impact areas of cultural entrepreneurship and urban growth and economy.
During their visit, Coletta and Harris will lead diverse cultural, historical, and community leaders through a process of dialogues and site visits that leverages their collective strengths to inspire the design of a place-based pilot project. Exploring the theme of leadership from a place of courage and inspired by stories of Newport's historic civic leaders, these visiting catalysts will meet with the Catalyzing Newport Steering Committee and work daily with the Local Action Team. The pilot project they produce will explore Newport's rich heritage and built and natural landscapes in an effort to engage diverse communities, invigorate connections between and beyond the cultural sector, and promote civic engagement and leadership.
The catalyst residency will culminate with a project plan produced and led by a Local Action Team to be implemented in Newport in 2015/16.
Catalyst Events
Community Meeting: Place Matters
Meeting with Carol Coletta, Danny Harris, and local Newport community organizations
Leading Cities
A Public Forum with Knight Foundation guests, Carol Coletta and Danny Harris, and Rhode Island leaders Morgan Grefe, Carrie Zaslow, and Paul Carroll
Wednesday, July 29, 2015
3:00pm to 4:30pm
The Pell Center for International Relations at Salve Regina University
518 Bellevue Avenue, Newport RI
Catalyst Bios
Carol Coletta, Vice President of Community and National Initiatives at the Knight Foundation, is a national expert on cities and creative communities.
Coletta was director of ArtPlace, a unique public-private collaboration to accelerate creative placemaking in communities across the United States. ArtPlace brings together leading private foundations, the National Endowment for the Arts, other federal agencies and major banks.
For seven years, Coletta was president and CEO of CEOs for Cities, a national network of urban leaders. Previously, she served as executive director of the Mayors' Institute on City Design, and also ran a Memphis-based public affairs consulting firm, Coletta & Company, focused on civic issues.
Coletta has written and spoken extensively on the future of cities, including how communities develop, attract and retain talent.
In 2003, Coletta was named a Knight Fellow in Community Building at the University of Miami School of Architecture. She graduated summa cum laude from the University of Memphis with majors in Journalism and Public Issues Management and has completed graduate work in future studies at the University of Houston Clear Lake and in design at the Institute of Design in Chicago.
Daniel Harris, San Jose Program Director at the Knight Foundation, is an internationally recognized storyteller and entrepreneur, with a focus on building community connections and sparking civic engagement amongst residents.
Prior to joining Knight, Harris was a principal of StorySocial, a creative design studio in Washington, D.C. In that role, he helped businesses, cities, foundations and brands more effectively collect and share their stories online and in person to build stronger communities.
He is also co-founder of Feastly, a venture capital-backed online marketplace that allows cooks to turn their homes into restaurants and promotes community connections at the dinner table. Previously, he was the chief storytelling officer for People's District, an online oral history project launched in Washington, D.C., that collected and shared a profile of one city resident a day.
Harris earned a Bachelor of Arts from Connecticut College and a Master's in Public Administration from Princeton University. His work has been featured in, among others, Fast Company, The New York Times, NPR, TIME, The Wall Street Journal and Wired. The Washington Post called him a "modern-day Studs Terkel."
Harris has delivered presentations around the world and is a regular speaker on topics such as storytelling, community building and creative placemaking. He was chosen as a National Arts Strategies Creative Community Fellow and is an award-winning DJ and photographer.
Local Action Team Bios
Mary-Kim Arnold is Director of Evaluation and Learning at the Rhode Island Foundation. She previously led the Foundation's grantmaking work in arts and culture. Prior to joining RIF in 2011, Mary-Kim was executive director of the Rhode Island Council for the Humanities. A published writer and poet, Mary-Kim also has taught expository and creative writing at Brown, Rhode Island School of Design, and Wheaton College. She holds an MFA in Writing from Brown University.
David Everett is a city planner, as well as a painter and sometimes consultant.  At the City of Providence Department of Planning & Development his concentration is long-range planning, with particular focus on issues of environmental sustainability and resilience, in addition to neighborhood and comprehensive planning. Dave has been a professional planner, writer and environmental advocate for over 25 years and holds a Master of City Planning from MIT. Over the past several years he has become increasingly involved in sustainability initiatives relating to stormwater management, flood mitigation, green infrastructure, and reducing the amount of paved surface. Currently he is active in a couple of transformative waterfront projects, as well as efforts to improve safety in urban school zones. Dave's art is informed by the natural world and the processes of decay and rebirth; he will be showing recent work at AS 220 in December 2015.
Theresa Guzman Stokes is President and founding member of1696 Heritage Group. Theresa has a professional background that includes magazine editor and published writer with a focus on ethnic American history. Theresa has participated in and supervised dozens of historic preservation, genealogical and cultural resource investigations throughout New England and Virginia, with an expertise in African American, Latin American and Jewish history and genealogy. Her current professional memberships include the National Genealogical Society, the Association of Professional Genealogists, the Historical Novel Society, and the Association of Writers and Writing Programs.
Jed Hancock-Brainerd is a Newport-anchored Providence-based theatre-maker who, in addition to acting locally at The Gamm, The Wilbury Group, Elemental Theatre Collective and 2nd Story, is also one-fourth of the tri-coastal devising company, Strange Attractor, creating original theatre in Providence, Philadelphia, and Juneau, AK. Since its forming in 2010, Jed has co-created 6 new works with Strange Attractor, and also served with company member Rebecca Noon and frequent collaborator Jeremy Radtke as the design team behind the School House Long House at the RISD Museum's 2013 show, Locally Made. Jed holds an MFA from the London International School of Performing Arts in Lecoq Based Actor Created Physical Theatre and a BFA in Theatre Arts from URI.
Steve Heath is the Catalyst at the East Bay Met School in Newport, RI. He's worked 20+ years, in public and private schools, in Boston, Chicago and Rhode Island, creating hands-on learning environments.  Steve is Chairman of FabNewport and sits on the board of the Jamestown Arts Center and FabLabs4Americica. Steve has two children, Eloise, 23, and Owen, 19, and lives in Jamestown with his wife, Mary. Steve thinks best when moving and is often seen riding a bicycle.
Tracy Jonsson is the founder of Newport Art House, an emerging creative place-making initiative based in Newport, RI. Tracy has professional experience in property development, real estate, and museum settings, and has an educational background in historic preservation (Roger Williams University). In addition to NAH, Tracy heads youth based outreach and recruitment for the Newport Met School, runs "salt," a writing collaborative creating and empowering civil discourse and creative writing, is a published historian, and is a passionate advocate for the growth of the humanities as a social and economic development opportunity for Newport county.
Nicole Pollock is the City of Providence's first Chief Innovation Officer. She is responsible for leading the City's Innovation Initiative to improve and streamline city services, increase data transparency, and measure the effectiveness of the City's processes and programs. Prior to her work with the City, Pollock oversaw policy and bond initiatives, communications, and program development for the Rhode Island Department of Environmental Management. She has also held positions with Clean Water Action, the Rhode Island Parent Information Network, the Rhode Island Area Health Education Center and The Providence Plan. A graduate of Brown University, Pollock has remained active in the Providence community and currently serves on the Board of the West Broadway Neighborhood Association and the Providence YMCA. She lives in Providence with her husband, two dogs, and four chickens.
Jessica Walsh has been with the Prevention Department of the Women's Resource Center for 11 years. Currently the Director of Prevention, she manages the local DELTA FOCUS project in Newport, RI. Working in collaboration with the community, Jessica facilitates strategies designed to decrease domestic violence by increasing community cohesion. She is responsible for evaluating prevention strategies as well as for increasing community evaluation capacity. Previously, Jessica was a violence prevention educator, delivering the agency's Peace Promotion curricula in 15 local schools to over 2,000 students. Jessica holds a B.A. from the University of Rhode Island in Communication Studies and Sociology.
Jeremy C. Wells is an assistant professor in the historic preservation program at Roger Williams University and a visiting Fulbright Scholar at the Federal University of Pernambuco, Brazil. His research addresses the sociocultural and experiential valuation of the historic environment and ways to assess these values, with a focus on participatory research, phenomenology, and mixed-methods, in order to inform planning practice for the historic environment. Wells is also involved in the Environmental Design Research Association (EDRA), where he created the Historic Environment Network that focuses on ways to integrate environmental design and behavior research into heritage conservation practice. He received his Ph.D. in Environmental Design and Planning from Clemson University and also holds an M.S. in Historic Preservation from the University of Pennsylvania and a B.S. in Historic Preservation from Southeast Missouri State University.
Carrie Zaslow is a Program Officer at Rhode Island Local Initiative Support Corporation (LISC). In this role Carrie is responsible for overseeing the Neighborhood Development Fund, LISC's operating support and capacity building program, Commercial Corridor Program, design and implementation of community development planning in neighborhoods including Woonsocket and the West End neighborhood in Providence.