Reflection: Morgan Grefe on Brookings Webinar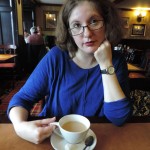 Catalyzing Newport steering committee member Morgan Grefe, Executive Director of the Rhode Island Historical Society, reflects here on the November webinar with the Brookings Vice President, Bruce Katz, highlighting the role of history in place making and economic development.
First a brook….then a stream
This fall I was delighted to be asked to provide a Providence welcome to Bruce Katz, Vice-President of the world-renowned Brookings Institution. Last year I attended the Providence Preservation Society's Annual Meeting and heard Brookings fellow Jennifer Bradley discuss her new book, The Metropolitan Revolution. Like the folks at PPS, I felt an immediate connection to what I was hearing. Bradley illustrated the idea of urban revitalization through the identification and cultivation of a unique asset inherent to the site. I was inspired, but also wondered why none of the communities seemed to hone in on an asset so rich in Rhode Island: local history. So, when I was asked to join a recently launched collaborative effort in Newport with our fellow history and humanities organizations on the island, now known as Catalyzing Newport, I knew Brookings would have a lot to offer our newly formed group.
Catalyzing Newport will be bringing truly innovative individuals and organizations to Newport to meet with diverse community members. Each "Catalyst" will spend up to a week meeting, talking and studying in Newport (and a little bit in Providence). She or he will work with our Steering Committee to stay on the right track, a Local Action Team to help produce a meaningful intervention after the catalyst's departure, and a variety of engaged community members to generate conversations that might never have happened otherwise.
But, you might say, this is just "place making," isn't it? Haven't we done that before? Well, yes and no. Rhode Island is lucky enough to have an active and inspirational arts community shaping our sense of place. But, we also have a resource that is truly unique to us: our history. Rhode Island writ large and Newport specifically, in this case, have a truly fascinating and world-changing history. I do not say that lightly. I say it because ideas of New World democracy that infuse our Declaration of Independence and Constitution started here in the 17th century. Those oft-quoted American virtues of religious freedom and free speech. Yup, that's us, too. You want to know what happens when you remove religious tithing and put cash in the hands of merchants—the good and the bad? Study Rhode Island. You want to see what sort of dynamic innovation emerges when people of any and all backgrounds work side by side? Stop by our library!
You want placemaking? We've been doing it since 1636.
Rhode Island's history is synonymous with innovation, with all its glory and baggage. And yet, we seem a little lost right now. For Rhode Islanders, our sense of place is still very important, heightened perhaps because of our small size. But, to me, our size and history actually help to make it a dynamic and vibrant creative community.
The intentions and attention of the Brookings Institution, and in particular Bruce Katz, holds incredible hope. They are able to bring to bear the successes and failures of cities all over the world to the case of Newport. Thus, it was perfect to kick start our three years of study with a virtual visit from Mr. Katz, a Brown graduate and former summer resident of Camp Fuller.
On that November morning, just after our state elections, which ushered in a new slate of leaders, we knew what was on everybody's mind: How are we going to repair our economy and create, attract, sustain and retain jobs in Rhode Island? The institutions and individuals driving growth of jobs and innovation are more diverse than they have ever been. And, of course, our economy is not just about business growth but also about people and their networks of varying backgrounds, disciplines and sectors sharing a vision, working together in inspiring ways and contributing to growth as a collective. To that end, that morning we welcomed representatives from education, arts and culture, manufacturing, technology, government, design and more.
We in Catalyzing Newport hold that our history organizations are the perfect players to have on the field right now. We are the bearer of Rhode Island's legacy of innovation by keeping those stories and records safe for study and understanding. To remain vital and engaging organizations, we must constantly develop new ways to connect the power of that past to the experiences of the present. Over the next three years this initiative will engage new dialogues, devise a path forward to build a resilient creative and cultural economy, and, we hope, ignite innovation.
Rhode Island was the birthplace of the industrial revolution—Slater Mill, Brown & Sharpe, Corliss, Fruit of the Loom, U.S. Rubber, and countless other industrial giants started right here. Our innovations and enterprising spirit were nurtured by amazing schools and led to the creation of another. But that was then. Now, how do we unite the mix of sectors, disciplines and organizations and catalyze this passion for place so as to create a state of economic resilience?
On that November morning we began a dialogue that I hope will continue and grow. As we engage with one another in new and better ways, we look forward to celebrating a more vital and sustainable Rhode Island so that our present is as bright as our past, but always outshined by our future.