Catalyzing Newport launches Sensory Week Newport: December 12 – 16, 2016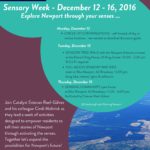 December 12th – 16th is declared "Newport Sensory Week" by Dr. Estevan Rael-Gálvez who will be visiting Newport as a part of Catalyzing Newport's catalyst residency program. Leading up to and during his December residency, Estevan will be empowering Newport's residents to collectively tell the story of their city through activating their senses.
Estevan is a nationally known creative strategist and storyteller interested in working effectively in community, inspiring creativity, and raising consciousness. In his former position at the National Trust for Historic Preservation and as the State Historian of New Mexico, Estevan has facilitated the telling of untold stories, the stories that were never meant to be told.
As cities work to address challenges around equity and participation, it is critical to develop an engagement framework that raises questions of who does the work and for whom public value is based. The discussions and exercises Estevan will lead during Sensory Week is timely as the city of Newport finalizes its strategic plan and communities look for connection and dialogue during what has proven to be a fractious moment for our country. Exploring Newport through the senses will create new possibility, a new understanding of our environment, the knowledge that can incubate economic and artistic prospects as well as expand the possibilities of new relationships, ideas, and opportunities.
Estevan will be visiting with his professional partner, Cindi Malinick, who has experience balancing preservation with present-day relevance as the Chief Cultural Resources Executive for the Girl Scouts of the USA. The duo has developed a unique "sensory" practice that assists communities and organizations to vision, plan, and implement transformational change in order to strengthen, position, and sustain themselves, now and into the future. They will leverage their joint expertise to facilitate this weeklong sensory journey.
Events that have been scheduled to support Sensory Week Newport include conversation circles, full moon bike rides, tree walks, beach strolls, and micro-memoir workshops. More details for each event are below. We hope to see you!
Wednesday, Dec. 7th, 5:30 – 6:30pm – Micro Memoir workshop led by Tyler French at Gather Apothecary, 312 Broadway, Newport. Feel stuck staring at a blank page? This one-hour workshop will provide all the tools and inspiration you'll need to craft your own memoir – at a micro scale.
Thursday, Dec. 8th, 5:00 – 7:30pm – Micro Memoir workshop and live storytelling event led by Matthew Lawrence at Newport Art Museum as part of their monthly series Art After Dark. For more information, visit NAM's website.
Monday, Dec. 12th, all day, Self-guided Circle of Conversations. Host your own Circle of  Conversation with a few of your friends, family, and/or colleagues on Monday, Dec 12th. (But seriously, if you can't do Monday it's fine to pick another day that works for you and your group!) Circles can take place around a kitchen table, a counter, while out walking, via Skype. . . you get the picture — really anywhere! We've developed a simple conversation guide (available for download on the Catalyzing Newport website) to help you get the conversations started. Participants are asked to document their conversations using our hashtag for Sensory Week Newport – #SensingNewport
Tuesday, Dec. 13th, 12:00 – 2:00pm – Sensory Tree Walk hosted by Newport Arboretum. Walkers are asked to gather in the yard at the Edward King House, 35 King St., Newport. Join this guided walk and explore the fascinating trees of the Kingscote grounds and Aquidneck Park. Stops will be made along the way to experience and reflect on Newport's sounds, tastes, sights, touches, and scents. Space is limited, and participants must RSVP to newporttreesociety@gmail.com
Tuesday, Dec. 13th, 6:00pm – Full Moon Sensory Bike Ride hosted by Bike Newport. Riders are asked to gather at Bike Newport, 62 Broadway, Newport, for a 6pm departure, and to bring their helmets, lights and reflectors. Join Bari Freeman from Bike Newport on this 4.5 mile ride through Newport guided by the full moon and full of sensory surprises! Stops will be made along the way to take in the senses.
Wednesday, Dec. 14th, 12:00pm – Meet at 2nd Beach , Surfer's End.  Peace Beach Box: Mindfulness & Memory using found beach objects as your guide led by Trip Wolfskehl and Dave Gracer.  Memories are formed by paying attention.  In gathering sensory input – the smells, sounds, sensations associated with an experience – we are paying attention not just with our minds but also with our ears, our noses, our fingertips.  When we pay attention in multiple ways, it is as if we are creating multiple doorways through which we can return to a previous experience whenever we like.  The Peace Beach Box "game" is designed to maximize sensory input of your time at the beach together.  Then you can relive that experience any time you like (together or solo) by way of a guided meditation online: https://www.youtube.com/watch?v=qdFr4YtGp0w&t=235s. Participants should arrive at the gathering place, 2nd Beach, Surfer's End, for a noon start and should bring a vessel with them (e.g., shoebox, antique box, any kind of box is o.k. even a bag!).
Thursday, Dec. 15th, 4:00 – 6:00pm – Sensing Community installation at Bike Newport, 62 Broadway, Newport. The various products of all of Sensory Week Newport's activities will be on display. In addition, we have many surprise activities planned for this night that will engage all the senses, including sensory mapping activities, smell cubes featuring historic scents with Morgan Grefe from the Rhode Island Historical Society, outdoor projections featuring the work of Newport-based photographers, holiday carolers from Christmas in Newport, and more!
All events are free and open to the public; but some do require an RSVP where noted.