Sensory Week Activities Reflection
On Wednesday, Dec. 14, Catalyzing Newport along with our collaborators, finished a series of sensory activities led by visiting catalysts Dr. Estevan Rael-Gálvez and Cindi Malinick as part of Sensory Week Newport. To date, our sensory explorations of Newport have included:
5 Micro Memoir writing workshops which have served over 60 people including seniors, Girl Scouts, and high school students;
5 Circles of Conversations with over 70 participants at schools, board rooms, barber shops and nonprofits all reflecting on their sensory experiences of Newport;
1 Full Moon Bike Ride with 10 participants who toured Newport on two-wheels taking in the sights, sounds, and smells along the route;
1 Sensory Tree Walk with 25 participants exploring in silence the trees of Kingscote and returning to the Edward King House for an artful activity that explored how our senses, psyches, and creativity are connected in nature;
1 Peace Beach Walk with 8 participants that explored mindfulness and memory as prompted by the expansiveness of the ocean and its shoreline offerings;
and lastly, we've collected over 200 photographs of Newport and its residents from local photographers each one giving us insight into their Newport.
We will display the collected works and reflections from our participants this Thursday, Dec. 15 at Bike Newport's new headquarters at 62 Broadway from 4-6pm. We invite the public to join us as we investigate further what Newport smells, tastes, looks, feels and sounds like. How do our senses help us make meaning of a place? What stories and memories are prompted by the senses? How do these stories connect us as visitors and/or residents of a place? You can read more about the individual activities below.
Micro Memoirs with Tyler French and Matthew Lawrence as facilitators:
In the micro memoir writing workshops (held at Edward King House, Park Holm Senior Center, Newport Art Museum, Gather Apothecary, and Rogers High School), we collected stories about the smell of rope and how that invokes the freedom of sailing on the sea; the smell of balsam pine which invokes the memory of picking out a Christmas tree with one's family; the smell of beer and how that invokes memories of working in the family liquor shop as a little girl organizing the returned bottles. . .What smells do you encounter in Newport? What memories do they conjure up for you?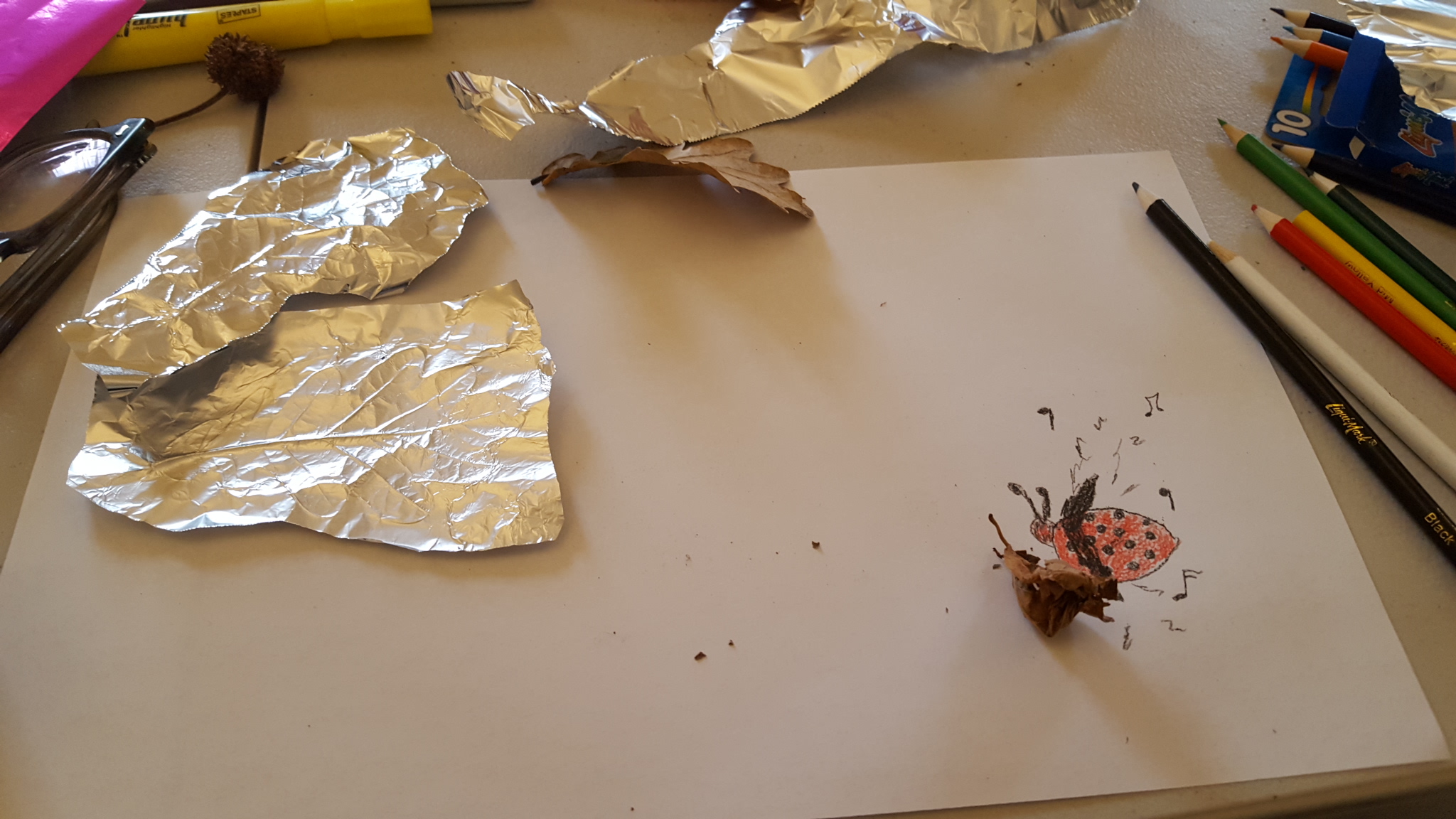 Sensory Tree Walk with The Newport Arboretum featuring Helen Papp, Anne and Katherine Culpepper, Kristyn Woodland, and Tracy Jonnson:
On Wednesday, Dec. 14th, the Newport Arboretum assembled 25 of us for an exploration of the trees of Kingscote interwoven with social, economic and cultural history. The landscape at the grand estate served as a clue to the King families international ties to the China trade. We documented our sensory experiences on the grounds — the textures of the different barks, leaves and trees, the sounds of the rustling leaves, squirrels climbing up among branches, and we smelled the sweetness of the sarsaparilla bark and the mustiness of dried winter leaves. Each participant collected "artifacts" from their explorations on the grounds, and then headed over to the Edward King House for a artful workshop led by artist and facilitator Tracy Jonnson. The sense of taste entered the experience with a tasting of syrup from birch and sugar maples, and a sampling of teas made from juniper and elderberries.
Full Moon Bike Ride with Bike Newport featuring Bari Freeman, Patrick Clayton, and Jim Egan:
On the evening of Wednesday, Dec 15th, on our balmy winter bike ride through Newport, we smelled the wood burning stoves, the salty ocean air, french fries and fried seafood along the wharf. We visited places in the quiet night that one can really only discover by bike. We heard the reeling of lines from a handful of fisherman on the peer. We heard the crushed shells grumble as we rode over them in the shipyard. We heard sirens for an extended period of time making us realize that something significant was happening. We saw the full moon behind a haze of clouds, never quite making its way out to us. Only hinting that it was there. A tease. We saw the way the lights from the Pell Bridge played on the water. We poked around the buildings of IYRS, the gravestones of Trinity Church, and had our own surprise tour of Newport's stone tower from its historian and interpreter Jim Egan, learning how its construction tells the secrets of the sky.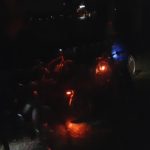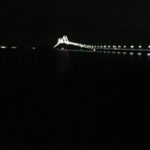 Peace Beach Box: Mindfulness and Memory facilitated by Trip Wolfskehl and Dave Gracer:
We assembled at the Surfer's End of Second Beach on a beautiful winter day to stroll the beach looking for artifacts that related to each individual participant's interpretation of land, air and water. The group disbanded for 30 minutes to explore on our own the offerings along the beach and to collect the found objects that related to the categories. We met back as a group and shared our discoveries. Among the found items were: feathers, clam shells, jingle shells, lobster claw, crabs, mermaid purses, plastic shovel, driftwood, barnacles, and a piece of a jaw from what we guessed was a bluefish.