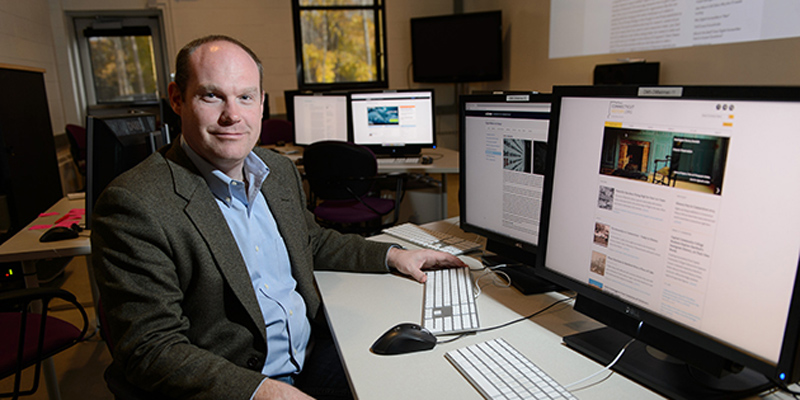 Catalyzing Newport welcomes visiting catalyst Tom Scheinfeldt, PhD, Director of Digital Humanities at the University of Connecticut, June 8-12, 2015. Scheinfeldt's residency will address Catalyzing Newport's impact areas of digital culture and cultural entrepreneurship.
Over the course of his residency in Newport, Scheinfeldt will guide a team of local scholars and practitioners to establish a Design + Humanities process that showcases Newport's rich historical and cultural assets to advance collaborative efforts across disciplines and sectors. Scheinfeldt will facilitate a two-day workshop with the Local Action Team by which the group designs an approach for local and visiting scholars and researchers to engage with a diverse group of historical professionals, artists, designers, and digital media specialists to discover new approaches to both scholarly research and policy-relevant questions; open pathways for discovery, analysis, and interpretation; and propel implementation and application. The process will aspire to become a tool for policy makers, scholars, artists, educators . . . anyone looking for a new way of thinking and approaching old problems.
Following this residency, the Local Action Team will issue a formal RFP or "call" for scholars to test their newly designed process for advancing scholarly research in Newport. Follow the Local Action Team's learning and process on our blog.
Catalyst Events
Collaboration First: Do scholars collaborate too late?
a public lecture presented by
Tom Scheinfeldt, PhD
Associate Professor and Director of Digital Humanities
Digital Media Center at the University of Connecticut
Tuesday, June 9
3:30-5:00pm
Ochre Court Library at Salve Regina University
Newport, RI
Catalyst Bio
Tom Scheinfeldt is Associate Professor of Digital Media and Design and Director of Digital Humanities in the Digital Media Center at the University of Connecticut. Formerly Managing Director of the Roy Rosenzweig Center for History and New Media at George Mason University, Scheinfeldt brings more than a decade of leadership in digital humanities research and management to UCONN.
Dr. Scheinfeldt received his undergraduate degree (A.B. in History and Science cum laude) from Harvard and his graduate degrees (M.Sc. in History of Science and D.Phil in Modern History) from Oxford. Scheinfeldt's award-winning, grant-funded research projects include groundbreaking experiments in digital archives such as the September 11 Digital Archive; scholarly open source software projects such as Omeka; generative web events such as One Week | One Tool; and boundarytesting efforts in scholarly communication such asTHATCamp and ConnecticutHistory.org.
Local Action Team Bios
For the residency Tom Scheinfeldt, the Local Action Team will focus on Catalyzing Newport's impact areas of digital humanities and cultural entrepreneurship. The cross-sector team includes historians, digital humanities practitioners, preservationists, and digital media specialists.
Shawn Badgley is the Communications & Digital Outreach Coordinator at the Rhode Island Historical Society, where he applies his experience in media, politics, and content marketing to cultivate new audiences and engage longtime members. The RIHS, founded in 1822, is the oldest and largest such organization in the state (as well as the fourth-oldest in the country), and offers both educational and recreational opportunities for local residents in addition to visiting tourists through its museums, research center, and many programs.
Melissa Barker received a B.S. in Historic Preservation from Roger Williams University's School of Architecture in 2001, with a minor in History. Ms. Barker worked on various restoration projects around the US as a materials conservator and artist. After returning back to Aquidneck Island, Ms. Barker began working for the City of Newport, RI, creating the GIS Program and becoming the GIS Coordinator for the City. In 2014 she won an ESRI Special Achievement in GIS Award in 2014 for her work in the Navy Emergency Management Addressing Project (NEMAP). Over the course of the last 3 years, Ms. Barker had been digitizing Newport's historic atlases and creating digital versions in GIS for the purpose of making the information more easily accessible for research purposes.
Markus Berger is Associate Professor and Graduate Program Director in the Department of Interior Architecture at the Rhode Island School of Design. He holds a Diplomingenieur für Architektur from the Technische Universität Wien, Austria and is a registered architect (SBA) in the Netherlands. Prior to coming to the US he practiced as an artist and architect, taught in Austria, India, Pakistan and worked with UN Studio in the Netherlands. He co-founded and co-edits Int|AR, the Journal on Interventions and Adaptive Reuse, that encompasses issues of preservation, conservation, alteration and interventions. His research, writing and work in his design studio "InsideOut Design" is on forms of change and design interventions in the built environment.
Marisa Angell Brown, PhD,  is the founder and president of Genie Loci, a consulting and project design office based in Providence that creates programs (analog, digital and hybrid) that engage the public with architecture, landscape and urban space.  Brown holds a Ph.D. in architectural history from Yale University, an M.A. in history from the University of Chicago and a B.A. from Princeton University.  She is a former Fulbright Fellow and has received awards and fellowships from the Graham Foundation for Advanced Studies in the Fine Arts, the Henry Luce Foundation and the Society of Architectural Historians. Her project work has been covered by Architectural Record, Metropolis, Designer/ Builder, The Hartford Courant and on NBC10, and she writes and lectures frequently on modern and contemporary architecture and the future of preservation. She recently published an article on the rise of modern house museums for Art New England and is currently at work on an article for Perspecta on the postwar landscape architect M. Paul Friedberg.
Amber Caulkins is the Director of Policy and Research for the Association of Independent Colleges & Universities of Rhode Island (AICU Rhode Island) where she researches, monitors, analyzes, and evaluates legislative and community issues that impact AICU Rhode Island member institutions. In addition, she supports the association's members in identifying opportunities for engagement, participation, information sharing, and advocacy among AICU Rhode Island peer groups. Amber also leads The College & University Research Collaborative (The Collaborative), an AICU Rhode Island initiative begun in 2013 that connects public policy and academic research for Rhode Island. In this role, she works to engage scholars from across Rhode Island's 11 colleges and universities in research to support state leaders and has developed an innovative process for turning research into action.
Madeleine Esch is an Assistant Professor in the Department of English and Communications at Salve Regina University where she teaches journalism and media studies. Her research focuses on consumer culture and gender in media, particularly in lifestyle television. Her most recent project examines how theHistory network program American Pickers reframes antiquing as anthropological inquiry and ruggedly macho exploration. She holds a B.A. In Journalism and Mass Communication from the University of St. Thomas (St. Paul, Minn.), an M.A. In Journalism from the University of Iowa and a Ph.D. in Communication from the University of Colorado.
Howard Newman, Artist/IP Developer, studied Architecture, Anthropology and Sociology at Miami University of Ohio. Thereafter, he and his wife, Mary, went through Peace Corps Survival Training, worked as community organizers in Laredo, Texas, and did paralegal work in New York City. After receiving a BFA and MFA at The Rhode Island School of Design where he was also the first Student Member of the Board of Trustees, and a year as a Fulbright Scholar in Italy, Howard had seven New York one-man exhibits, receiving an award from The National Academy of Arts and Letters, and a Prix de Rome. Since 1989, Howard and Mary have operated Newmans, Ltd. Fine Metal Restoration, and in 2011, created the IP development firm, Sigma Surfacing LLC. Howard and Mary live in Newport, Rhode Island where Howard created the plan for the new Washington Square and is now on the Newport Spring Committee. You can see Howard's work at www.newmansltd.com and www.sigmasurfacing.com.
Stacie M. Parillo is the Digital Producer at Providence Public Library, where she is responsible for maintaining and preserving digital collections. She also creates access and showcases PPL's various collections through creating online repositories and digital exhibits. Previous to the PPL, Stacie was Head of Collections and Digital Initiatives Manager at the Newport Historical Society in Newport, RI. In her three years there she worked to create accessibility for a mostly hidden collection. She also holds an MA in Communication Studies from Suffolk University, and an MS in Library & Information Science from Simmons College.
Kaity Ryan is the Manager of Preservation Policy for the Preservation Society of Newport County, where she oversees the organization's policy and advocacy efforts. Ryan holds an M.S. in Historic Preservation from the Columbia University Graduate School of Architecture, Planning and Preservation, and a B.A. in Art History from Drew University. Her work with the Preservation Society ranges from advocating for local and statewide policies that align with the organization's mission, to collaborating on the improvement of the "Paradise Valley" cultural landscape in Middletown, Rhode Island, to promoting the preservation of Newport's built environment, landscapes, and historic streetscape features. Before joining the Preservation Society, Kaity worked as a freelance consultant and historian specializing in architectural history, preservation, private art collection management, and independent research for clients such as the Museum of the City of New York, The Hudson River Foundation, ArtHamptons, Prudon and Partners, and more. Prior to consulting, she worked for Christie's auction house in New York and Glenalmond College in Perthshire, Scotland. She has lectured at Columbia University, Roger Williams University, and St. George's School.
Alyssa Smith works at Worldways Social Marketing where she serves as a communication advisor and social media coordinator to a number of municipal government and social service agencies, including the City of Newport. In these roles, she manages development project teams, authors all types of copy, creates social media campaigns, and produces videos. She is a graduate of the Harrington School of Communication at the University of Rhode Island, where she majored in Journalism. Alyssa is a native Rhode Islander who lives and works in Newport.