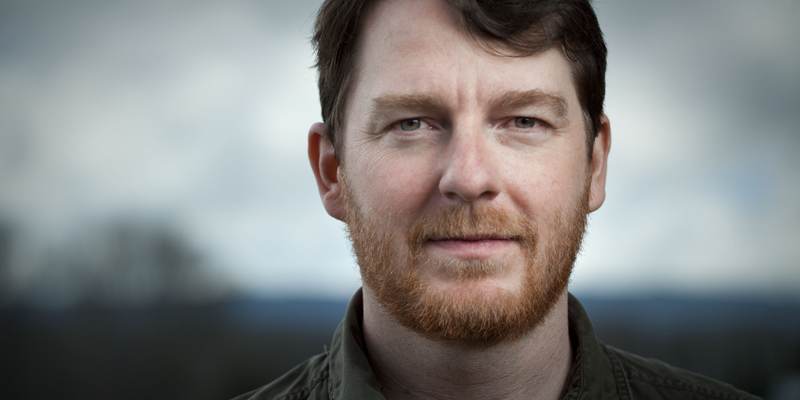 Catalyzing Newport welcomes futurist Jake Dunagan to Newport for a visiting catalyst residency from June 16 – 21. Jake is managing director and global foresight lead for verynice.co and research affiliate at the Institute for the Future, a California-based think tank that helps organizations plan for the long-term future. Jake specializes in social invention and the redesign of systems in light of current tools and knowledge. In his work, Dunagan has focused on a wide range of topics including strategic foresight, governance design, comprehensive cognitive design, intellectual property, Internet law and politics, mobility and the future of learning and work.
Jake's residency will explore ways we can engage citizens in collective imagination and more robust social foresight. Join us for several public events that invite us to envision Newport's future together.
Catalyst Events
SATURDAY, JUNE 18, 6-8 P.M. PUBLIC LAUNCH: THE MAYOR'S OFFICE, 2061
Site of the Old Town Spring & former Coffey's Citgo gas station, 48 Touro St., Newport, RI
The public is invited to the opening of a pop-up installation exploring themes related to Newport in the year 2061. How will the city prepare for the effects of climate change? What new technologies will advance the quality of life? How will we get around? What will we eat? What will be in every home? Come explore these issues as you unpack the layers of history at the site.
MONDAY, JUNE 20, 4 – 6 P.M. PUBLIC LECTURE: THE FUTURE AS COGNITIVE PROSTHETIC
Rosecliff Mansion, Salon Room, 548 Bellevue Ave, Newport, RI
Please register here to attend.
Jake will introduce concepts for thinking more effectively about the future, and the need for raising our collective foresight capacity. Human civilization will be dealing with unprecedented volatility and complexity over the coming generations. And yet, we've inherited a way of looking at the future that assumes consistency, linearity, and predictability. We cannot predict a single outcome for any complex system; therefore, the way forward is to better prepare for a range of possible futures.
Catalyst Bio
Jake Dunagan is managing director and global foresight lead for verynice.co and research affiliate at the Institute for the Future, a California-based think tank that helps organizations plan for the long-term future.
Jake specializes in social invention and the redesign of systems in light of current tools and knowledge. He also leads the Governance Futures Lab, whose mission is to reimagine and experiment with the basic architectures and processes of governance. The only formally trained futurist on staff, Dunagan joined Institute for the Future in 2008 and brought with him the alternative futures methodology developed at the Manoa School of Futures Studies at the University of Hawaii.
In his work, Dunagan has focused on a wide range of topics including strategic foresight, governance design, comprehensive cognitive design, intellectual property, Internet law and politics, mobility and the future of learning and work. He holds a B.A. in visual anthropology from Auburn University, an M.A. in visual anthropology from Temple University and a Ph.D. from the Manoa School of Futures Studies.
Local Design/Execution Team Bios
This team spent weeks researching and designing Jake's proposed Mayor 2061 scenario. With their Newport knowledge and individual talents, they masterfully designed and produced community workshops and a transformed Coffey Gas Station for public engagement.
Chantal Birdsong is an innovative designer who specializes in human-centered experience and adaptive reuse. Working in 2D, 3D, and 4D within analog and digital media, Chantal creates interactive projects and spaces that are intended to inspire and engage users and clients. Chantal earned a Master of Design from the Rhode Island School of Design in 2015, returning to the arts after a successful career in program management. Previously she had received a BA in Fine Art from Mount Holyoke College and completed the Harvard Graduate School of Design summer program in Architecture.  Chantal believes architecture and design should be a conversation with the future that is rooted in the past and present. Her design work—ranging from small-scale product imaginings to full-scale housing, retail, and institutional interiors—is powered by empathy, visual and emotional intelligence, bold technological experimentation, creative storytelling, and a deep-seated social consciousness.
Nick De Pace has taught in RISD's Architecture, Landscape Architecture and Interior Architecture departments since 1999. Between 1996 and 2001, Nick was project designer for the National World War II Memorial in Washington, D.C., under design architect Friedrich St. Florian. Nick's interest in ancient infrastructural systems, territorial land-water management and the 18th-century drawings of Giovanni Battista Piranesi led to a Fulbright Fellowship in 2005 to document the Emissarium of Lake Albano, a monumental subterranean water conduit of ancient Roman engineering. Since being certified in urban speleology by Roma Sotterranea, he has collaborated on numerous archaeological activities. Since 2002, he has designed numerous award-winning residential and commercial projects through his independent practice, Ad Hoc/Architecture in Providence.
Jed Hancock-Brainerd is a Newport-anchored Providence-based theatre-maker who, in addition to acting locally at The Gamm, The Wilbury Group, Elemental Theatre Collective and 2nd Story, is also one-fourth of the tri-coastal devising company, Strange Attractor, creating original theatre in Providence, Philadelphia, and Juneau, AK. Since its forming in 2010, Jed has co-created 6 new works with Strange Attractor, and also served with company member Rebecca Noon and frequent collaborator Jeremy Radtke as the design team behind the School House Long House at the RISD Museum's 2013 show, Locally Made. Jed holds an MFA from the London International School of Performing Arts in Lecoq Based
Adeline Mitchell is a multimedia artist and educator in Providence, RI. Adeline's work has explored through performance, music, cartooning, and installation, themes of therapeutic improvisation and release, collaborative and interdependent play and exchange, and the hidden forces that guide our hands in making. She partners with after school programs in youth arts education and mentorship, including Riverzedge Arts in Woonsocket, RI, and is a research assistant for the Center for the Study of Race and Ethnicity in America at Brown University.
Rupert Nesbitt graduated from The Cooper Union with a BFA in 1991 and received his MFA from Vermont College in 2007. In the early 1990's his work involved documenting the performative and exploratory practice of climbing New York City's numerous bridges. That roving sensibility resulted in extensive international travel in the developing world. This included eleven summers spent in Egypt as an illustrator on archaeological digs. That experience resulted in illustration work in the field of toy design, ultimately resulting in multiple trips to Hong Kong and China as a designer and animator of robotic toys. This focus on mimicking reality continued to manifest in work for years in the form of digital 3D animation. Currently his practice explores issues of representation and notions of originality, authenticity, singularity and multiplicity.
The Newport Project at Rogers High School was designed in 2012-2013 by English teachers, Zinovia Canale and Nancy Noonan, who saw the need for a an educational pathway that would meet the needs of students who are disengaged, underperforming, and have special interests not addressed through the established curriculum. This experiential, place-based program uses the city of Newport as a primary text to foster student ownership of the natural, historical, and cultural resources of their community. At the heart of the Newport Project are creation of community partnerships and establishment of a classroom culture based on personalization, student-driven research, field study, and authentic student projects inspired and facilitated by the adult experts of the city. The program, by its nature, is predicated on interdisciplinary practices, and a true interdisciplinary component was added in 2014-2015 with the expansion of the program to include a science teacher, Bethany Borgueta, and a dynamic curriculum that enhances the place-based learning experience.
Kelly Orr spent four years in the army, three years landscaping, two years rebuilding commercial printing presses, eight years running maintenance on a golf course, four years as the property manager at AS220 – all interspersed with layers of mostly self-taught building restoration, a lifetime of interest in antique cars, and an all-consuming interest in how machines work. When he's not fixing everything under the sun, he can be found out in nature.
Jeremy Radtke is the Digital Content Producer at the RISD Museum where he is responsible for leading and overseeing the creation and acquisition of digital content that builds on RISD Museum's educational mission. Jeremy also devises and develops digital initiatives and oversees production activities across the full spectrum of digital platforms to increase access to the collections, programs, publications and exhibitions for a wide range of audiences, including curators, artists, institutions and departments.
Kate Schapira is the author of five books of poetry, most recently Handbook For Hands That Alter As We Hold Them Out (Horse Less Press, 2016). A collaboration with Erika Howsare, FILL: A Collection, will be out later this year with Trembling Pillow Press. She lives in Providence, where she teaches for Brown University and Frequency Writers, co-runs the Publicly Complex Reading Series at Ada Books, and offers Climate Anxiety Counseling.
Local Action Team Bios
This team will be the first to experience Mayor's Office 2061. With their Newport knowledge and expertise, they will learn, explore, critique and assist the local design team in executing the final experiential futures that will be available to the public on June 18.
Melissa Barker received a B.S. in Historic Preservation from Roger Williams University's School of Architecture in 2001, with a minor in History. Melissa worked on various restoration projects around the US as a materials conservator and artist. After returning back to Aquidneck Island, Melissa began working for the City of Newport, RI, creating the GIS Program and becoming the GIS Coordinator for the City. In 2014 she won an ESRI Special Achievement in GIS Award in 2014 for her work in the Navy Emergency Management Addressing Project (NEMAP). Over the course of the last 3 years, Melissa had been digitizing Newport's historic atlases and creating digital versions in GIS for the purpose of making the information more easily accessible for research purposes.
Christian Belden is Senior Project Manager, Master of Community Planning, Church Community Housing Corporation (CCHC). CCHC is a non-profit real estate development company. His work encompasses the elements of real estate development and community development with an eye to making both greener and more sustainable. To this end he has completed the North East Sustainable Energy Association Master Series Zero Net Homes Certification and is now managing the construction of the first two "Net Zero" homes in Rhode Island. Christian's time with CCHC has coincided with the expansion of the organization into development consulting. In 2012 he managed the BRIDGES to Housing and Employment development in Jamestown, Rhode Island – a five unit subsidized multi family home for adults with developmental disabilities. Christian is now managing the expansion and relocation of the Lucy's Hearth homeless shelter for women and children in Middletown, RI. Prior to his current position, Christian worked as the Town Planner for Cumberland, RI and as a Principal Planner with the City of San Diego. Christian was born and raised in Tiverton Rhode Island and is grateful for the opportunity to make a positive impact in the County he calls home.
Becca Bertrand is the Managing Director of newportFILM and a member of the board of directors of the Arts + Cultural Alliance of Newport County. She first fell in love with Newport as an undergrad studying the city's architectural heritage and preservation history as a Cultural & Historic Preservation major at Salve Regina University. After college, she entered a rigorous graduate program in the museum field at the University of Delaware's Winterthur Program in American Material Culture where she researched and wrote about historic American furniture. New England drew Becca back home and after graduate school she held positions at the Newport Restoration Foundation and Peabody Essex Museum before landing her first job in fundraising at the Sandra Feinstein-Gamm Theatre in Pawtucket. Before joining the newportFILM team, she worked at the Newport Art Museum. In her tenure at the Museum, Becca worked her way from Development Associate to Director of Development and Interim Deputy Director. As a Newport resident, local fundraiser and arts administrator, Becca is passionate about the future of the City and honored to serve as a member of the local action team for Catalyzing Newport.
Bari Freeman brings to Bike Newport a long history as communications specialist in the nonprofit sector, where she worked to build collaborations, to optimize resources, and to achieve goals effectively and efficiently. Her work is grounded solidly in early research – collecting data, history, perspectives, experiences and best practices and then shaping promising new and current solutions. After many years working on national issues, she is happy to focus on the community of Newport and the state of Rhode Island. What started as a personal challenge to be a transportation cyclist in this small and picturesque city became a full-time effort to help Newport become the bicycle friendly community it's destined to be. Thanks to the generosity of local foundations and funders, and the energy, enthusiasm and generosity of numerous volunteers, Bike Newport is now a funded program with a future. Her team works to encourage and support bicycling, to integrate cycling and other gentle modes of transport into the culture of the historic and beautiful "City by the Sea."
Nicole Markham, an East Hampton, Connecticut native, earned her B.A. from Bryn Mawr College (Classical & Near Eastern Archaeology) and a Masters of Museum Studies (MMSt) from the University of Toronto. Since 2001, she has been the Curator of Collections at the International Tennis Hall of Fame, where she is responsible for the day-to-day development, research, care, and management of the museum's permanent collection. She is also responsible for the coordination, oversight, research, development and installation of exhibitions at the ITHFM. Prior to her tenure at Tennis, Nicole has worked at a variety of museums/cultural organizations, including the UPENN Museum, the Bata Shoe Museum, the Ontario Workers Arts and Heritage Centre, the Ontario Heritage Foundation/Ashbridge Estate, Cultural Resource Specialists, and the Joseph N. Goff House Foundation.
Kelsey Mullen is a public historian, museum educator, and audience advocate with a decade of experience in museums throughout the northeast. Kelsey moved to the Ocean State in July 2015 and currently serves as the Coordinator of Academic Programs & Special Projects for Newport Restoration Foundation. Her focus at NRF is developing and implementing initiatives that serve a scholarly audience and that engage with academic partners in the areas of Newport history, material culture, and historic preservation. Prior to joining the NRF staff, Kelsey worked at The Mount: Edith Wharton's Home, where, as the Director of Public Programming & Education, she oversaw the programmatic, interpretive, and outreach efforts, and helped to build The Mount's reputation as a literary center. Before immersing herself in Whartonia, Kelsey previously served on the education teams at the National Baseball Hall of Fame and Museum, Museums of Old York, Newport Historical Society, and New York State Historical Association. Kelsey holds B.A.s in History and Education from Mount Holyoke College and a M.A. in Museum Studies from the Cooperstown Graduate Program.
Ron Onorato is professor of art and architectural history at the University of Rhode Island and the chair of the University's Department of Art and Art History. His teachings cover a broad range of courses from American and contemporary art and architectural history to the history of photography, film history and American material culture. Ron also teaches several field courses every year on Newport architecture and other New England topics with site visits ranging from graveyards and colonial townscapes to industrial sites, sculptural monuments and historical districts. He is a nationally known expert on the architectural and sculptural heritage of Newport from the colonial period to the present and is an honorary member of the American Institute of Architects, Rhode Island Chapter. He has held positions in a number of art museums including senior curator at the La Jolla Museum of Contemporary Art in California and at the New York Cultural Center in Manhattan, and as a principal investigator on several projects from the National Endowment for the Arts. Ron has been the recipient of fellowships from the Wyeth Foundation, the Prince Foundation and the URI Humanities Center. Serving on the Rhode Island Historic Preservation and Heritage Commission, he is also a member of the National Register of Historic Places review board. He has been a member of the Rhode Island Historic Cemetery Commission and serves currently as board officer for Newport Art Museum.
Abigail (Abby) Stewart, Research & Interpretation Coordinator, received a B.A. in English Literature and History from St. Michael's College in 2009 and an MA in Architectural History with a certificate in Historic Preservation from the University of Virginia in 2014. Abby, a former high school English and History teacher, is now the Research and Interpretation Coordinator for the Preservation Society of Newport County. Her studies look at how society interacts with places and how understandings evolve over time, with a focus on how buildings' identities can shift from generation to generation.
Steve White, AIA, is Dean and Professor of Architecture at the Roger Williams University School of Architecture, Art and Historic Preservation. There he has led with colleagues the establishment of graduate programs in Architecture, Historic Preservation, and Art and Architectural History, as well as graduate certificate offerings in Urban and Regional Planning, and Historic Preservation. He co-founded with colleagues several initiatives and centers linking the university, community and the professions including the Career Investment Program, the Teaching Firm in Residence Program, the Community Partnerships Center, the Center for Macro Projects and Diplomacy, and AIA Rhode Island's chapter space in Providence. Steve has worked in architecture offices of Stein Doshi and Bhalla, New Delhi, Architectenburo Hertzberger, Amsterdam, HOK London and Marshall/Lee Architects, San Francisco. His book Building in the Garden: The Architecture of Joseph Allen Stein in India and California was published by Oxford University Press in hardback and paperback editions. Steve has received grants from the National Endowment for the Humanities, the Ford Foundation, the US Information Service, and the 1772 Foundation. He has served as American Institute of Architects Rhode Island President, Association of Collegiate Schools of Architecture Northeast Regional Director, and on the National Council of Architectural Registration Boards Education Committee. Steve has taught and was educated at Washington University in St. Louis, where he received M.Arch., MA, and BA degrees.