Come to this free community event to participate in a #SensingNewport event!
On Monday, June 20th visiting catalyst Jake Dunagan, PhD, delivered his lecture The Future as Cognitive Prosthetic to a full house at Rosecliff Mansion. During the lecture, Jake asked the audience to craft haikus at two different intervals as a means to creatively express our thoughts about the future twenty-years from now– the first prompt focused on the personal, the second prompt focused on the community. Posted below are the haikus that were generated from audience participants.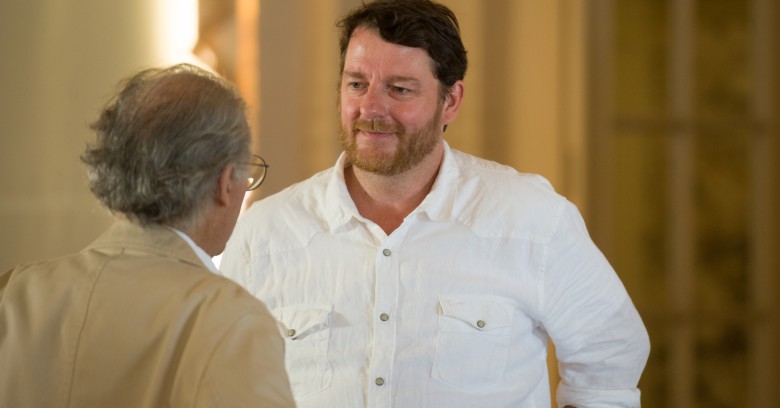 Howard Newman is a Newport-based scholar and artist who represented the Historic Spring Leadership Committee at Catalyzing Newport's launch of the Mayor's Office, 2061 on Saturday, June 18, 2016. The committee raised the funds to purchase the site of the gas station for public enjoyment. Howard's thoughtful remarks are posted below. 
IMPACT AREAS
URBAN GROWTH & ECONOMY
URBAN GROWTH & ECONOMY
Preserving identity and heritage with economic sustainability and growth. A local, regional, and national cross-sector dialogue that places Newport as a demonstration site for historical urban landscape management.
DIGITAL CULTURE
DIGITAL CULTURE
Sustaining and growing cultural communities in a hyper-connected world. An examination of how data in our collections is preserved, stewarded, shared, used, and potentially monetized.
CULTURAL ENTREPRENEURSHIP
CULTURAL ENTREPRENEURSHIP
Leveraging the best cultural practitioners and innovators to explore how the cultural sector can use entrepreneurial approaches to support and help transform communities and to produce new models of economic and social impact.
DIVERSITY & PROSPERITY
DIVERSITY & PROSPERITY
Providing opportunities for work, prosperity, and a richness of material culture and ideas across a diverse and changing population. Activating Newport's history as a place of tolerance and opportunity to investigate how diversity can support prosperity.
ABOUT
A collaborative initiative with a Steering Committee of local and statewide humanities organizations facilitated by the Rhode Island Council for the Humanities and supported by the van Beuren Charitable Foundation, Catalyzing Newport utilizes a visiting scholars program that draws on extensive experience, national and international networks, and the creative excellence of established experts (known as "catalysts") to engage local communities in meaningful exchanges. Over the next three years (starting in 2014), visiting catalysts will travel to Newport to apply their expertise during five-day residencies—which include Public Programs and intensive work with Local Action Teams—to address local and national challenges related to the Impact Areas outlined above. Catalyzing Newport offers a new vision for the city's cultural sector, one that puts our renowned historical organizations, leaders, and cultural assets at the forefront of community conversations about Newport's development and prosperity. Together, we will imagine a Newport whose future is rich in culture, civic life, and economic opportunities.
PROJECT GOALS
The goals of the Catalyzing Newport project are to:
1) provide meaningful access to Newport and Rhode Island history for broader audiences
2) innovate by leveraging the cultural sector's assets, reputation, and partnerships toward a greater shared community vision
3) establish a global model for cultural and historical organizations to contribute to new economies locally, nationally, and internationally
4) strengthen the ability of Newport's cultural sector to diversify its revenue streams and attract greater resources
PUBLIC PROGRAMS
Public programming during catalyst residencies will engage diverse audiences from across Rhode Island through lectures, exhibits, classroom talks, Town Hall forums, and historical tours. These programs are intended to identify new resources and ideas, and to generate collaboration and imaginative solutions for the pressing issues facing Newport's cultural sector and its community-at-large.
LOCAL ACTION TEAMS
During each Catalyst residency, a team of local experts will provide:
1) knowledge to deepen the Catalyst's understanding of Newport history and its vital historical resources
2) context to quickly absorb Newport's unique challenges and opportunities
3) collaboration to leverage momentum and create measurable outcomes (e.g., publications, products, exhibits, grants, etc.) to share with the community
SEED FUNDING
Seed funds will be available to Local Action Teams to execute projects brainstormed as part of the Visiting Catalyst's residence.
GET INVOLVED
Catalyzing Newport needs you! This initiative provides the structure and space for community leaders, like you, to strategize new ideas and solutions with national experts. Your support will help launch unique collaborative initiatives, bring renowned visionaries to Newport, and help us imagine a revitalized historic working city—one that is prosperous and resilient well into the future.
ATTEND A PUBLIC PROGRAM
Lectures, exhibits, classroom talks, Town Hall forums, and historical tours related to each Catalyst residency will be announced on the News & Events page of this site. Please join us!
SPONSOR A CATALYST
Are you excited by Catalyzing Newport's roster of visiting catalysts? Would you like to support this program? Well, you can! Please contact us if you would like to support national experts coming to Newport.
SPONSOR SEED FUNDING
Select ideas generated during catalyst residencies will be given $2000 to move forward to the next stage. Your donation for seed funds will help support new ideas and projects to get off the ground. Contact us if you would be interested in supporting one of these local initiatives.
SUGGEST A CATALYST
Would you like to suggest a catalyst? Do you know an expert with deep expertise in one of our Impact Areas who would be a worthy and willing participant? We would love to hear from you.